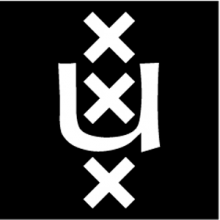 The University of Amsterdam (UvA) is one of the world's intellectual hubs, a modern comprehensive research university with a long and rich history dating back to 1632. It has a leading international reputation and is firmly rooted in the culturally diverse city of Amsterdam. The university scores highly in various international rankings, it is ranked within the top 20 universities in Europe and the top 100 worldwide.
Teaching and research at the UvA are organized in seven faculties: Economics and Business, Humanities, Law, Social Sciences, Science, Medicine and Dentistry. They are located in four open city campuses. With 5,000 staff members, 30,000 students including over 4,000 international students representing a hundred different nationalities, UvA is connected to thousands of researchers and hundreds of public and private institutions in the Netherlands and around the world. The University of Amsterdam's mission is to prepare its students in the best possible way for a future career in the global labor market.
Developing intercultural and career skills through mobility and the international classroom are key factors in its internationalization policy. The Global Student Experience encompasses all phases of student mobility (before, during and after the study abroad experience) underlining the importance of creating valuable learning experiences, or student learning outcomes .
To achieve a successful result the central office of Student Services deploys a wide array of experts (from various departments) to train, inform and support students while embarking on this study abroad experience in the various phases of a study abroad experience. To facilitate and enhance the impact of the study abroad student experience the UvA underlines the importance of student engagement; volunteer students working with University staff to offer the student services needed to create a successful study abroad experience.